Description
This is a multi-functional beauty equipment. It has carbon laser facial and tattoo removal, eyebrow tattoo removal and skin spots removal. It is very suitable for beauty salons to carry out a variety of beauty businesses.
How does Carbon Laser Facial Machine work?

We'll apply a layer of liquid carbon to your face (or body), allowing it to penetrate deeply into your pores and let it dry. The carbon bonds with any debris that might be present, like dead skin cells, contaminants and oil.

We'll then pass a laser across the surface of your skin. Because the laser light is super attracted to carbon particles, its energy and heat is absorbed by the carbon paste destroying the particles in your pores.

Light from the laser is attracted to the carbon. The carbon absorbs the light energy. The reaction causes a mini explosion. The explosion pushes the energy, in the form of heat, deep into the layers of the skin where elastin and collagen are activated and cells begin producing anew. Meanwhile, on the surface of the skin, as the explosion occurs the carbon is vaporized along with any dirt, oil or dead skin cells. Sounds kind of scary, with all the explosions and vaporizing, but don't worry. There's very little discomfort or pain. The sensation has been described as a mild tingling or very slight pinch.

Who can benefit from this treatment?

For those who want to combat the signs of aging, Carbon Laser Facials can rejuvenate your skin by:

Reducing the signs of premature aging
Improving skin integrity and radiance
Reducing fine lines and wrinkles
Increasing skin tone and texture
Stimulating collagen growth for firmer, plumper skin
Reducing oily skin or exfoliating dry skin
Erasing or fading yellow/brown pigmentation
Shrinking scars (must be young scars of a small diameter).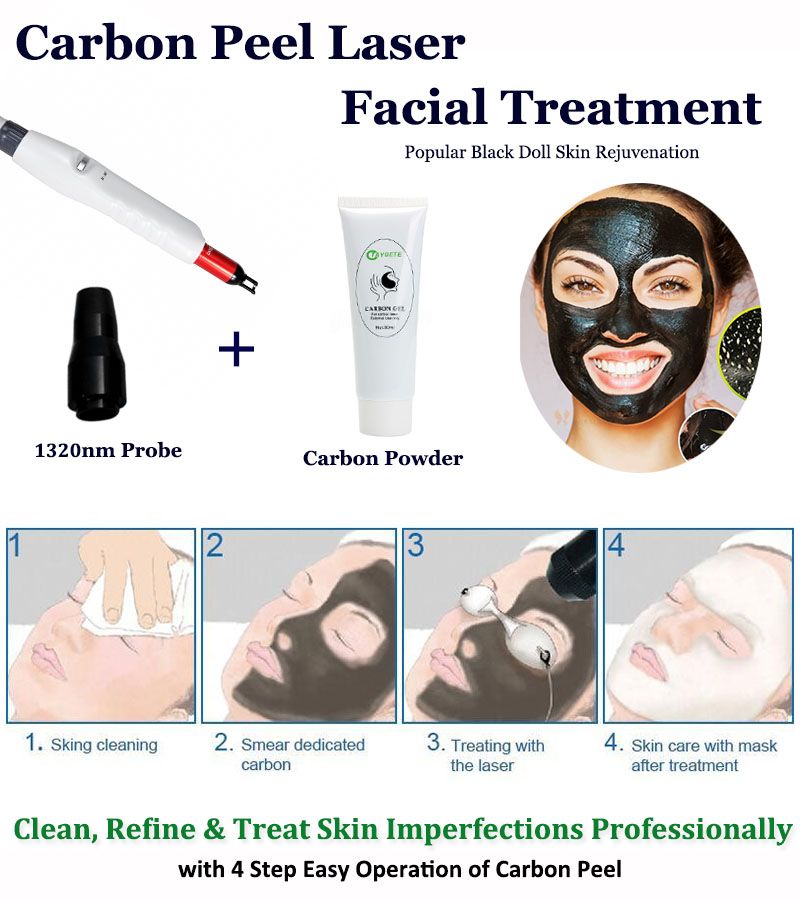 How does the Picosecond Laser Tattoo Removal work? 

The picosecond laser tattoo removal delivers the shortest pulse durations of any aesthetic laser: one picosecond is equal to one trillionth of a second. These ultra-short laser pulses allow treatment across a broad range of skin types, including darker skin tones.
Less advanced lasers that offer longer nanosecond pulses create a photothermal effect, which can overheat melanin found in darker skin tones and cause scarring, hypopigmentation, and hyperpigmentation.
The picosecond laser tattoo removal machine delivers ultra-short, ultra-fast, powerful pulses of targeted energy, creating the primarily photoacoustic impact needed to fracture tattoo ink into miniscule particles. This is achieved without the photothermal impact of other lasers, which can overheat surrounding skin tissue-a stark contrast to the slower pulse speed of nanosecond laser technology.
Picosecond technology offers the most innovative laser tattoo removal technology. Compared with nanosecond technology of the past, today's ultra-fast picosecond laser removal technology offers less risk and pain, faster results, broader range of colors removed, and fewer treatment sessions.


1320nm Black doll: Shrink pores, whitening rejuvenation, oil control,deep cleaning pores impurities.
1064nm: Effectively remove the dark tattoo eyeliner,lip line and traumatic pigmentation.
LP1064/532nm: Eliminate tattoo, lip liner Lack of pain.
532nm: Eliminate color pigments, eliminate red, tan tattoo.
532nm: Eliminate color pigments,various types of superficial epidermis.