Description
Dot Matrix RF Thermage Wrinkle Removal Beauty Machine for Facial Lifting Tightening
Treatment theroy:
RF Thermage is a noninvasive treatment, meaning there is no cutting of the skin to perform it, which utilizes mono polar radio frequency energy to tighten and tone the body and improve its contour.
RF Thermage works by heating the under layer of the skin, known as the dermis. This heat causes collagen creation, called neocollagenesis.
This new collagen makes the skin look firmer & tighter and improves the overall texture of the skin and the body shape. Unlike lasers, RF Thermage Body procedures work on all skin types and colors.
Generally patients will undergo 8-10 treatment sessions with RF Thermage. But even one treatment you can see tightening improvements.
Results develop over time and you may see a tightening and lifting of the treatment area for up to 12 months following the procedure.
The RF Thermage procedure heats a large volume of collagen in the deeper layers of the skin and its underlying tissue.
This deep uniform heating action causes deep structures in your skin to immediately tighten.
Over time, new and remodeled collagen is produced to further tighten skin, resulting in healthier, smoother skin and a moreyouthful appearance.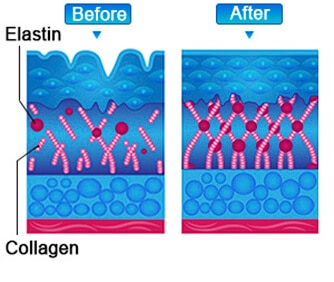 Function:
The Eyes - fine lines and even our brow line;treats on the upper and lower eyelids to look youthful and rested.
The Face -treatment for loose jowls, sagging skin. It can smooth lines and wrinkles and remodels collagen for the overall health of the skin.
The Body - treatment for sagging skin and unwanted bulges and dimples. A non-invasive way to smooth the skin on our bodies and even temporarily improve the appearance of cellulite.

Main Effects:
1. Skin tightening,repair stretch marks
2. Face lifting,Anti-aging,tighten pores
3. Remove wrinkles, like forehead wrinkle,eye wrinkle,crow's feet wrinkle,nasolabial fold etc.
4. Eye problem solution (eliminate eye dark circles, bags under eyes, eye pattern and relieve edema)
5. Skin whitening,remove freckles
6. Ance and acne scars fade
7. Restore skin elasticity
8. Improve skin texture
9. Skin rejuvenation
10. Improve the body function (improve vascular and lymphatic circulation)

Features:
100% Brand New and High Quality.
Replaceable beauty head.
Fractional Radio Frequency home use.
Good effect for face lifting, eyes care.
Low, Medium and high energy adjust for different skin.
No pain,comfortable treatment, fast effect and low cost.
Wrinkle removal.
It can work 4 hours after fully charged.
Easy to carry, can do the treatment everywhere.

Smart Panel:
1.Multi-gear multifunction,simple operation.
2.5 seconds tips,15 minutes automatic shutdown humanized design,it is more convenient and more secure.
3.Waterproof design and 360 degree unrestricted use of space make it get rid of traditional use space limitations.
4.Smart low-voltage alarm,charging,saturated light tips show human use features.

Specification:
Charging voltage:DC5V
Power: 5W
Frequency:1Mhz
Charging time:3-5 hours
Using time:About 3 hours
Size: Approx. 185 x 82 x 82mm


Advantages:
144 Little effect RF tips, skin effect is better.
2*2cm big flat beauty head,care is more effecient.
Fractional RF,skin is heated more evenly, to avoid local overheating,more safe and comfortable.
The new added LED light function can improve the skin condition.
Stimulate collagen regeneration.

Package Included
1 X Thermage skin Care
1 X Charging Holder
1 X English manual
1 X USB charging cable (it can be charged on mobile phone charger)
It needs to be matched with gel or beauty essence, otherwise it will not work.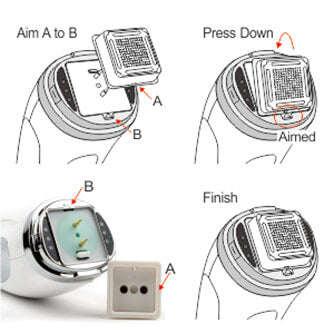 Treatment Tip Installation.