Description
The Newest 7D HIFU Machine for face lifting and body contouring uses precise medical ultrasound for non-surgical lifting of face and tightening of the skin. The 7D HIFU is also name as Ultra HIFU III, is a high intensity focused ultrasound treatment designed to help reverse the signs of aging, leaving you with a more youthful appearance. Unlike other skin tightening treatment on the market, the HIFU treatment is a completely non-invasive lifting and contouring device that provide a customised treatment procedure for the entire face, neck and body. The end natural result is achieved quickly, painlessly and safely!
If you want to have a slight and deeper tissues change on the skin, as well as enhancement and healing of the skin, but without a surgery on the face, neck or body areas, 7D HIFU Machine For Face Lifting and Body Contouring is a good and suitable procedure for you.
Unlike other HIFU technologies, 7D HIFU allows the practitioner to control Energy, Density & the length of the line. This enables tailoring parameters combinations to match needs of each case.
7D HIFU is based on MMFU (Micro Macro Focused Ultrasound) technology, which allows ultrasonic energy to be evenly distributed, targeting the desired layer in the subcutaneous tissue. Micro Focused energy pulses direct energy to the superficial layers of tissue and Macro Focused energy pulses take energy to the deeper layers of tissue. Thanks to state-of-the-art technology, the procedure is safe and does not require recovery time.
Benefits:
Micro and Macro Focused Ultrasound (MMFU) Depth Cartridges for Maximum Results
High peak power for superior results with less discomfort.
Patent 2.0 mm Depth Cartridge targets the Narrow and Sensitive Regions on the Face
7 Different Probes Optional :1.5 mm, 3.0 mm, 4.5 mm,2.0 mm, 6 mm, 9 mm and 13 mm.
Different Frequency of Each Probe: 1.5/3.0 mm is 7 MHZ, 4.5mm is 4 MHZ, 2.0 mm is 5.5 MHZ, 6/9/13mm is 2MHZ.
Tailoring different combinations of energy, penetration, density and size to match different patient needs.
Highly Profitable ROI
35% faster – 7D HIFU's enables a short session by its high repetition rate, continuous pulse shooting & by saving time needed to switch cartridges through the availability of two hand-pieces.
Single-handed control – 7D HIFU's light gun-shaped hand-piece allows the user to control it with a single hand eliminating exhaustion over extended use periods.
Technology
MMFU (Macro & Micro Focused Ultrasound) Technology
High- energy focused ultrasound technology was invented to treat cancers bu using the heat energy of ultrasound. The heat is generated in the focus area by the transducer. Without affecting unintended areas or layers of tissue during treatment, MMFU-powered cartridges focus accurate beams of ultrasound energy into target areas of skin tissue for lifting and tightening the face, and subcutaneous fat layers to induce contractions and disposal of stubborn fat cells from the body.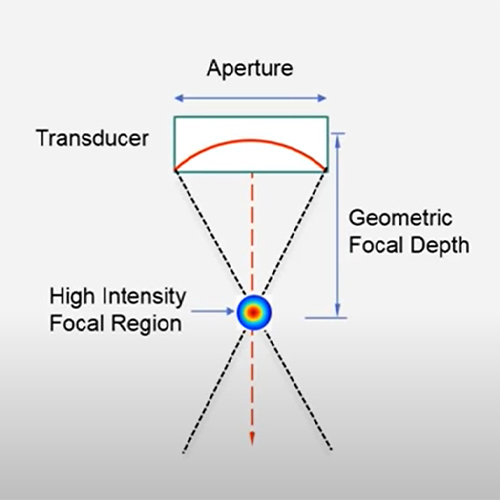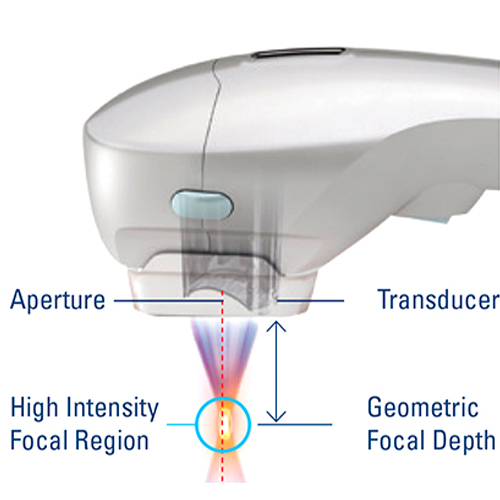 Multi-functional cartridges assisted by MMFU technology are specially designed for skin and body treatment for various application. 4&7 MHZ transducers create Micro coagulation into dermis and SMAS while 2 MHz transducers deliver Macro energy into subcutaneous fat to selectively remove fat cells. This innovative transducers maximize customer's satisfaction and reduce treatment time.
Engineered With Precision
MMFU-powered cartridges are designed to transfer both concentrated and stable ultrasound energy into the focal region. Built to emit an equal distribution of heat, the Ultra HIFU III accurately targets broad or narrow areas of concern without damaging surrounding tissue during customized procedures.
MICRO FOCUSED
Cartridges with highly concentrated ultrasound beams deliver power with accuracy and precision to the specified focal region.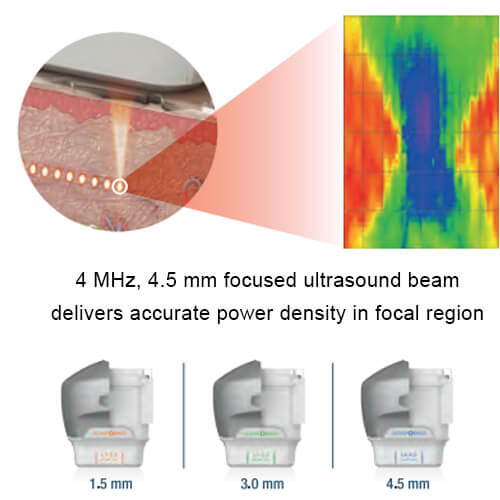 MACRO FOCUSED
Cartridges with lower frequencies allow deeper penetration to the focal region with a larger energy density.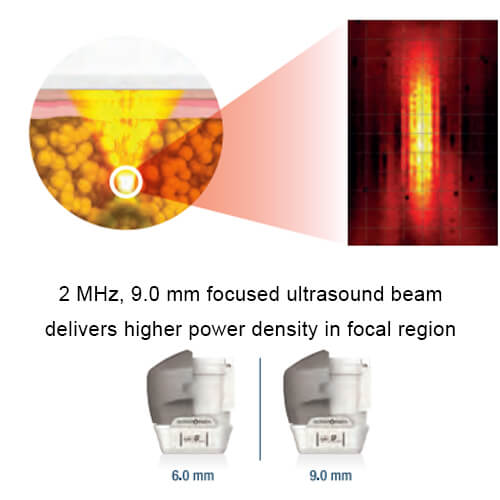 Face Lift & Tighten
Multiple cartridges are customized for shallow layers of the face and décolleté to address sagging skin, collagen renewal, and absolute wrinkle reduction.
4.5 mm probe (lifting) – Acting on SAMA fascial layer to tighten the muscle bottom and achieve firmness.
3.0 mm probe (Tightening) – Aiming on the dermis to stimulate continuous regeneration of collagen.
2.0 mm probe ( Wrinkle Erasing) – The world's original treatment probe specializing for eyes and deep lines such as forehead, neck and crow's feet.
1.5 mm transducer (Toning) – Targeting at the epidermis to improve superficial fine lines, skin tone, skin texture and fine pores.
Body Tighten & Contour
Macro focused transducers with a larger density and deeper penetration of HIFU target the body's subcutaneous layers at 3 different depths to slim contours and remove stubborn fat.
Exclusive design of 6.0 mm and 9.0 mm transducers can adapt to different people and have wider application range. It can solve the problem of local precision sculpture more effectively.
6.0 mm transducer for the chest, 9.0 mm transducer for the thigh, 13 mm transducer for the abdomen.
6.0 mm probe is aimed at improving double chin with excellent effect.
Technical Specifications
Ultra HIFU III Machine
Voltage
220V/50Hz or 110V/50Hz or 110V/60Hz
Energy Type
HIFU (High Intensity Focused Ultrasound)
Power
0.1~3.0 J(0.1 J/step)
Spacing
1~2 mm (0.1 mm /step)
Length
5.0~25 mm (5 mm /Step)
Cartridge

L4-4.5 (4 MHZ / 4.5 mm)      MF6 (2 MHZ / 6.0 mm)L7 – 3.0 (7 MHZ / 3.0 mm)    MF9 (2 MHZ / 9.0 mm)

L7 – 1.5 (7 MHZ / 1.5 mm)

Function
Face Lifting, skin rejuvenation, wrinkle removal, skin tightening
Weight
35 kg
Warranty
1 Years
Certification
CE, ISO9001
Machine Measure
50 cm*51.5 cm*131 cm
Facial Lifting Treatments Before and After pictures | Tightening and Brightening
7D HIFU works for face lifting, skin tightening, wrinkles, pores, v-line forming, jowl line, skin tone improvement, choller and laxity improvement.
| | | | |
| --- | --- | --- | --- |
| | | | |
| Double Chin | Neck | Nasolabial Fold | Forehead |
Body Lifting Treatments Before and After Pictures | Tightening and Contouring
Whole Body contouring such as chest, arm, abdomen, flank, thigh, axillar, lower leg, ankle and back
| | | | |
| --- | --- | --- | --- |
| | | | |
| Inner Thighs | Flank | Axillar | Belly |