Description
The Zhoulin WS-111T Bio-Spectrum Treatment Devices are physiotherapeutic apparatuses of electromagnetic irradiation with wide spectrums, whose main energy zone is located at infrared band (major resource) and extends to microwave (very weak). The device affects parts or traditional Chinese acupoints of the body through direct irradiating, by which the beneficial physical and biological effects can be achieved and the function system of body can be adjusted, thus resulting in the effect of treatment.

Zhoulin WS-111T Features:
Universal wheel design at the bottom, easy to push or pull with one hand.
Column combination design, space-saving, the height can be flexibly disassembled.
Simple operation, intelligent temperature control, overheating protection, dumping power failure.
Hose bracket can adjust the irradiation angle.
Round head irradiation is more concentrated.

Specifications
| | |
| --- | --- |
| Item | Data |
| Voltage | 110V or 220V |
| Power | ≤240 W |
| Timer scope | 0~60min |
| Surface temperature of Irradiators | ≥180℃ |
| Classification of medical electrical equipment | In-door I-B |
| Operation Conditions Environmental Temperature | +10℃~+30℃ |
| Size | 642×452×140mm |
| Net weight | 9.5 kg |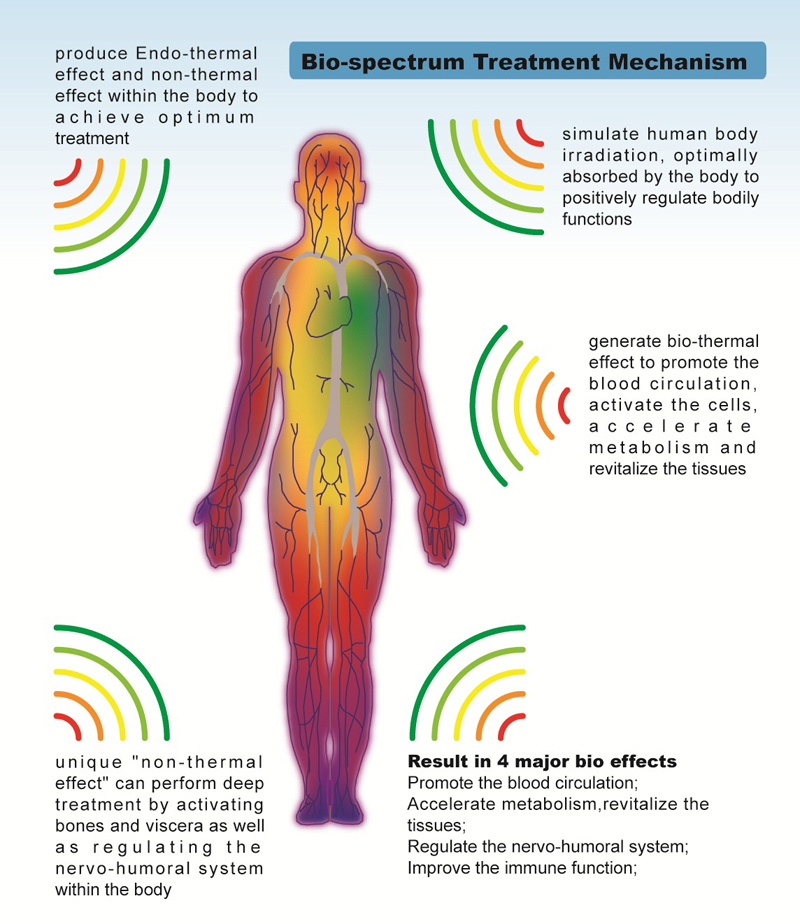 APPLICATION

Medical Treatment Functions:
Promote the blood circulation; accelerate metabolism; regulate the nervo-humoral system; improve the immune function
Can be used as auxiliary therapy on the following disease (approved by SFDA and proved by extensive clinical applications and research carried out in China ):
Internal medicine: bronchitis; asthma; gastritis; ulcers; hepatitis; constipation; diarrhea;
Surgery:wound infection and healing;
Orthopaedics:soft tissue sprains; muscular pain; arthritis;
Skin disease:herpes zoster; eczema; dermatitis; burns; bedsore; frostbite;
Gynecology:pelvic inflammation;
Paediatrics:paediatric pneumonia; mumps;

Health Care Functions:
Elderly: Improve microcirculation and immunity; adjust nerve and incretion function, have the function of disease prevention and anti-decrepit
Women: Promote female hormone secrete, improve skin micro-circulation and have the function of beauty care.
Children: Improve immunity of children from disease, enhance the nutrition absorption and digest,
Young: Promote metabolism, replenish energy and relieve fatigue